On 32nd Street, between Broadway and 5th Avenue, is "Korea Town", although it would more properly be called "Korea Block". I love the character of this area. The buildings in this neighborhood are 10 to 15 stories tall, which is a great height. Tall enough to make the street feel cozy and cloistered, but not so tall as to feel alienating.

There are Korean bookstores, boutiques, karaoke bars, a grocery store, and of course reastaurants. Most of them aren't super cheap (most good, cheap Korean food, is in Flushing, Queens). This is the grocery store, below. I counted eleven brands of kimchee in there.

There is one cheap place: Woorijip at 12 W. 32nd Street. I pronounced it "we're a jip", but I hope that's incorrect. When I was doing the Walk, there were many times I guided my route so that it would end here- just in time for dinner. They have a good, cheap Korean buffet, and they play sappy, Korean pop.
Crane your neck up to see the Empire State Buliding looming over the whole scene. The proximity of this glamorous celebrity puts this street over the top for me.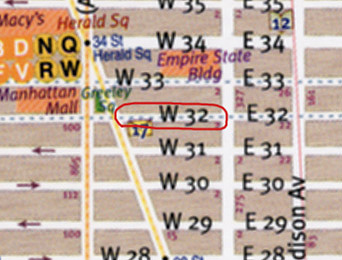 Click below to return to Interactive Map