In Hamilton Heights, near the intersection of 157th Street and Edgecombe Avenue, look for a crumbling staircase descending a steep hill.
This hill is known as "Coogan's Bluff", and it was once home to the Polo Grounds baseball stadium.
You can see the bluff rising behind the stadium below. This is where the New York Baseball Giants played. The arrow shows the approximate location of the staircase.
This inscription is halfway down the stairs- John T. Brush was a former owner. This staircase , which led down to a ticket booth, is the last remnant of the stadium- which was replaced by the Polo Grounds housing projects several years after the Giants moved to San Francisco in 1958.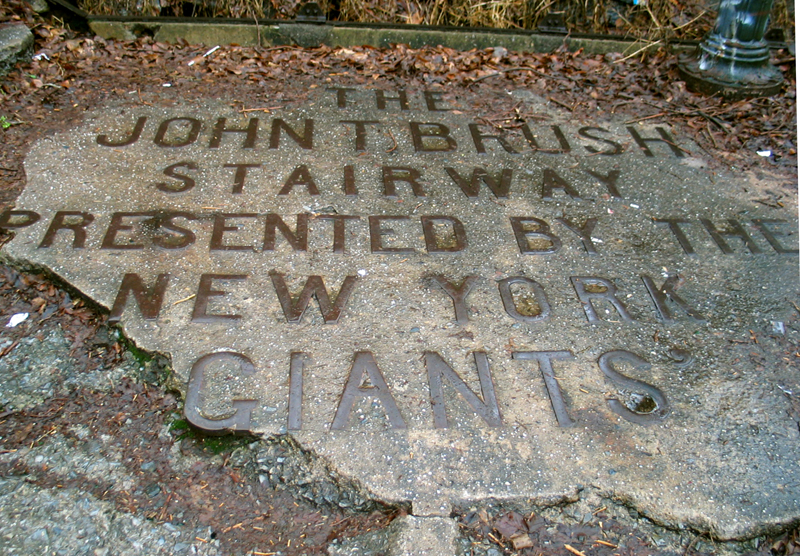 A lot of great games were played here, but the most legendary is the last game of the 1951 playoffs, remembered as The Miracle at Coogan's Bluff. The Giants were playing their cross-town rivals, the Brooklyn Dodgers. At the bottom of the 9th, the Dodgers led 4-2, the Giants had two men on base, and third baseman Bobby Thompson was up. What happened next is best described in the words of announcer Russ Hodges' enthusiastic play-by-play:
The Shot Heard 'Round the World

"Brooklyn leads it, 4-2. Hartung down the line at third, not taking any chances. Lockman without too big of a lead at second, but he'll be running like the wind if Thomson hits one. Branca throws. There's a long drive. It's gonna be, I believe --

The Giants win the pennant! The Giants win the pennant! The Giants win the pennant! The Giants win the pennant!

Bobby Thomson hits into the lower deck of the left-field stands! The Giants win the pennant! And they're going crazy! They're going crazy! Oh-ho!"
Click on the radio below to hear the original broadcast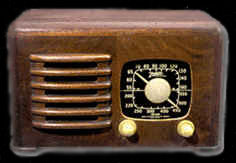 | | "I jumped and skipped around those bases like I was half nuts. Gee whiz, I kept saying, gee whiz!" -Bobby Thompson |
| --- | --- |